Striped organic cotton dress Kai with buttons
Product Details
•  Dress Kai is made from GOTS certificated organic cotton Popeline

•  Our thin cotton popeline is yarn dyed, this means that the yarn was dyed before weaving. Yarn-dyed fabrics are much more durable and do not fade as much when washed.
• The fabric is very compact and firm, which gives the dress a nice feel and it doesn't crease so much after washing
•  Zipper in side seam
•  Elastic tape is integrated at the back for a tighter fit at the waist
•  Pleats on the chest part
•  Made in Serbia under fair working conditions
Size & Fit
•  Midi length, hem slightly longer at the sides compared to the middle
•  Long sleeves, running narrow at the wrist
•  Model is 175cm and wearing size XS
Material & Care
•  97% organic cotton 3% elastane (GOTS Certificated)
•  Wash at 30°, do not bleach, do not tumble dry, low iron
IMPORTANT UPDATE DUE TO CORONA:

We are applying additional hygiene measures: packing with gloves + disinfection of the poly bags before packing. Please be aware that Mykke Hofmann cannot guarantee for hygiene standards of our shipping partners (DHL and UPS)

Deliveries can be slightly delayed due to the current situation. We provide you with a tracking code in your order confirmation so you will be able to track your order.
FREQUENTLY ASKED QUESTIONS 
1) Do you ship internationally?

We ship to almost everywhere with some exceptions. You can check which countries we don't ship to in our "terms & conditions" - "shipping Policy" on our website.
2) If I order today when will I receive my item?

Germany: 2-5 Business Days, EU: 3-5 Business Days, outside EU: 5-15 days. Depending on the delivery Country you will receive a confirmation email containing the tracking code after your order has been shipped.
3) How do I return an item?

Fill out the return form that was included in your shipment, and send us an email to customercare@mykkehofmann.com and we will create a return label for you. Mykke Hofmann offers free returns so you don't have to pay anything.
4) Why do you not send return labels?

We don't send return labels automatically because not everyone wants to return their order in the first place. If you wish to return your order we would be more than happy to create a free return label for you. Send us an email to  customercare@mykkehofmann.com 
5) Can I swap an item?

If you wish to swap an item for a different size then fill out the Return form that was included in your shipment, and send us an email to customercare@mykkehofmann.com we will then create a return label for you, Mykke Hofmann offers free returns so you don't have to pay anything. We will refund your money via the original payment method & you will have to place a new order regarding the desired pieces / sizes.
6) I made a mistake, can I cancel or change my order?

Unfortunately it is not possible for you to cancel your order by yourself, but our customer service can do that for you in case we haven't packed and shipped the item yet! Send us an email to customercare@mykkehofmann.com immediately and we will cancel your order & refund your money to the original payment method. If you wish to have changes made to your order we would have to proceed the same way by cancelling your current order. You will then have to place a new order.
7) How do I find out about new product drops?

Sign up to our newsletter and follow us on instagram & you're all set :) 
P.S. By signing up to our newsletter you'll receive a 10€ voucher for your next order!
8) How do I sign up for your newsletter?

You can either follow the link in bio in our instagram profile or just visit www.mykkehofmann.com and you will see a pop up window offering you to sign up. 
9) When will I receive my refund?

If the return is approved, then your refund will be processed in the same way as the original method of payment within fourteen (14) days from the reception of the returned item. We shall refund the original price that you have paid for the purchase of your item.
10) How do I find out my size?

You can find a size chart on every product detail page in the Mykke Hofmann online shop. If you are stil unsure, you can allways send us an email to customercare@mykkehofmann.com and qe will be more than happy to assist you in finding the correct size for you!
11) How do I use the discount code that I received?

You can enter the discount code at checkout right after you placed the item(s) in your shopping cart and clicked "checkout".
12) In what currency can I pay?

At the moment, all orders in the Mykke Hofmann online shop can only be payed in Euro €
13) What payment methods do you offer?

At the moment we offer payment by Credit card, Klarna and Paypal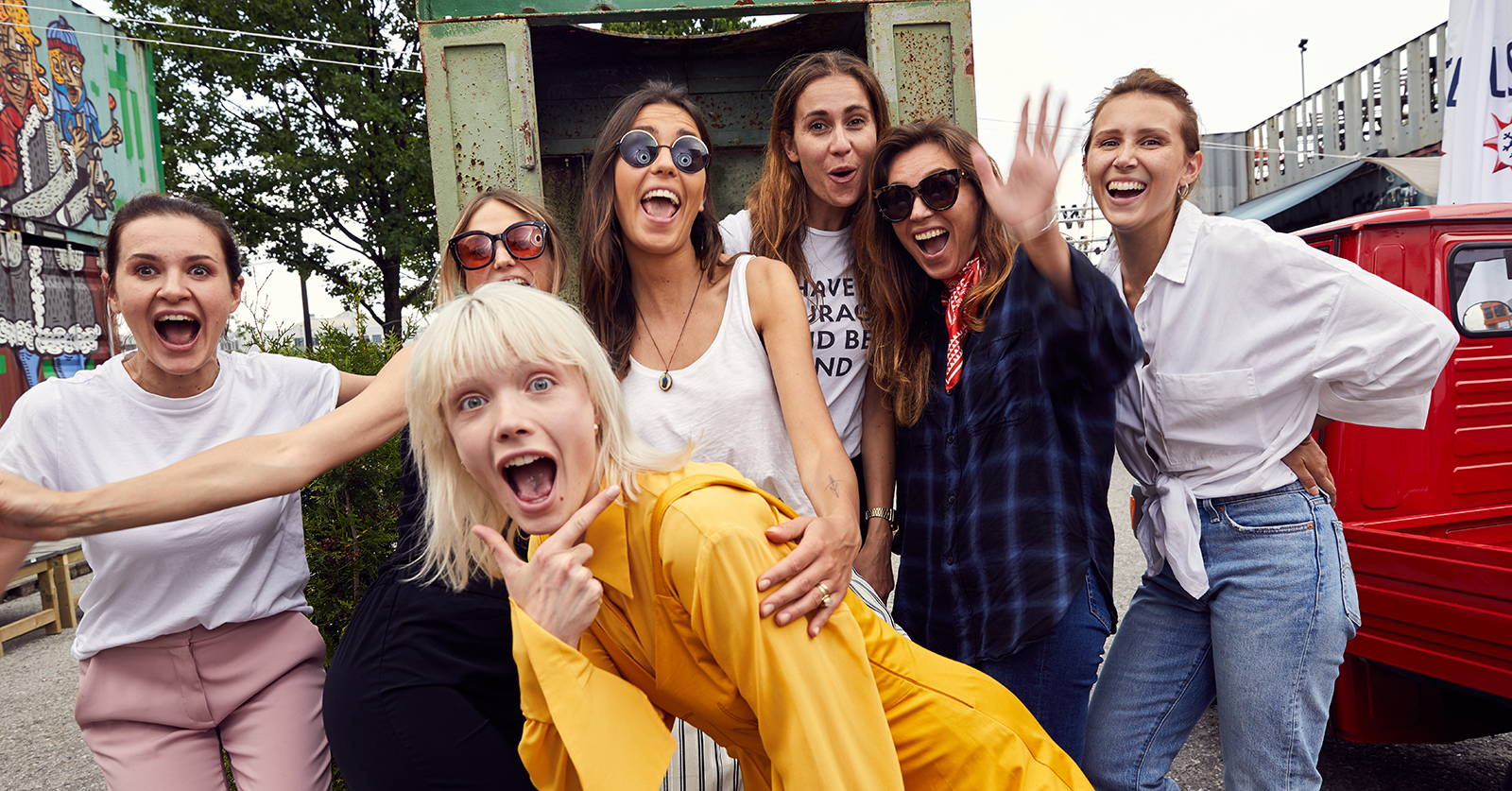 We are a female design collective with balkan roots, a headquarter in Munich and a cosmopolitan heart. Mykke Hofmann was founded in 2017 by Jelena Hofmann and her former partner Sedina (Mykke) Halilovic. Take a closer look and you will notice that our collections are strongly influenced by the cultural mix inherent to the lives of the founders, combining European minimalism & precision with the energy, femininity and roughness that their home countries Serbia and Bosnia are known for.
We are self-made and 100% sourced in Europe, and fair: We run our own production site in Serbia, nearby Jelena's hometown Belgrade. We today employ approximately 40 women - growing steadily. This gives us full control over the production process and working conditions. We pay our workers 50% above the average regulated by the local Government. All of our fabrics are sourced in Europe, Italy other European countries like Portugal and Germany. more about our ethics
We believe in the power of being subtly striking. More precisely, we believe in the subtly striking power of femininity: Our collections embrace a mix of alluringly feminine styles with oversize and laid back elements. We create our collections for women with attitude, our design are made to put you on a stage, without making you feel dressed up.